with Cocoa Butter, Licorice and Nano Shiso Extracts
Nourishes and protects dry and sensitive skin. The thick smooth cream absorbs quickly, providing long-lasting and effective moisturizer for skin. Cocoa Butter strengthens skin condition with rich emollient. licorice Extract smoothes and naturally lightens for healthier looking skin.
Visible results, Expert-guaranteed
The efficacy test from Spincontrol Asia has demonstrated that THANN Body Butter significantly increase moisture level of the outer layers of the skin with long lasting effect in a single application and improve complexion radiance, gradually reveal lighter and healthier looking skin.
THE EFFICACY TEST RESULTS OF THE BODY BUTTER
THANN Body Butter has induced significant moisturization of the outer layers of the skin after 2 hours of a single application on the forearm  (+38.1.0%, p<0.01) and up to 6 hours (+22.9%, p<0.01) when compared  to  baseline and corrected from untreated site. This shows a long lasting efficacy of THANN Body Butter towards moisturizing benefit after a single application.
The  skin  moisture  level  measurement  by  Corneometer showed long lasting moisture up to 6 hours on 100% of volunteers after a single application.
The  result of skin  color  measurement  by Chromameter showed that application of THANN Body butter twice daily in the morning and evening for 28 days.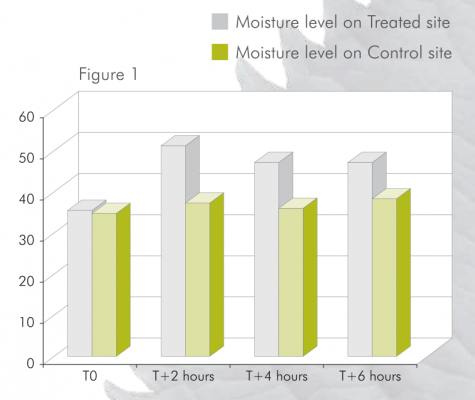 Figure 1: Meon of the skin moisture level measured by Comeometry exhibited the significant increase of 38.1% after 2 hours and 22.9% after 6 hours of a single application of THANN Body Butter. A p value inferior to 0.05 means a significant difference compared to baseline.
100% of the volunteers were perfectly tolerated.*
90.9% of the volunteers presented an improvement of the lightening effect.*
*Chromametry measurement tested result in 22 participants after Jwice doily use after 28 days by Spincontrol Asia Co.,Ltd (France)