Protects skin against UVA and UVB rays, prevents premature aging, wrinkles, and reduces skin irritation due to sun exposure. The non-greasy formula will not leave oily effect on skin.
Visible results, Expert-guaranteed
THANN Age Inversion Face Cream with Hydrolyzed Rice Protein, Soy Protein, Nano Shiso and Black Tea Extracts works on a comprehensive level to smooth out fine lines and wrinkles, gradually revealing smoother and younger looking skin. Hydrolyzed Rice Protein, Soybean Protein and Black Tea  promote a re-production of elastin and collagen, giving firmer and more refined skin.
Nano Shiso Extract contains Rosemarinic acid, Linoleic, Glycoproteins, 1-perillaldehyde and Phenol compounds; all of which are naturally anti-histamine and anti-oxidant substances not just ideal for smoothing out fine lines and wrinkles, but also for moisturizing the skin.
THE EFFECT OF THE AGE INVERSION FACE CREAM
A crow's feet area wrinkles measurement by replica analysis method showed that
82.4% of the volunteers' skin wrinkles decreased. **
31.3% reduction in wrinkles. **

**Replica analysis method tested result in 17 volunteers of twice daily use after 28 days by Spincontrol Asia Co., Ltd. (France)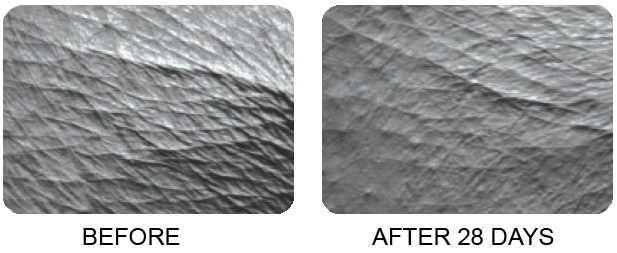 Photographs of the replicas of the crow's feet area wrinkles of the subject F1320 token at TO (left) and T+28 days (right) illustrating the anti-wrinkles effect induced by the tested THANN Age Inversion Face Cream.